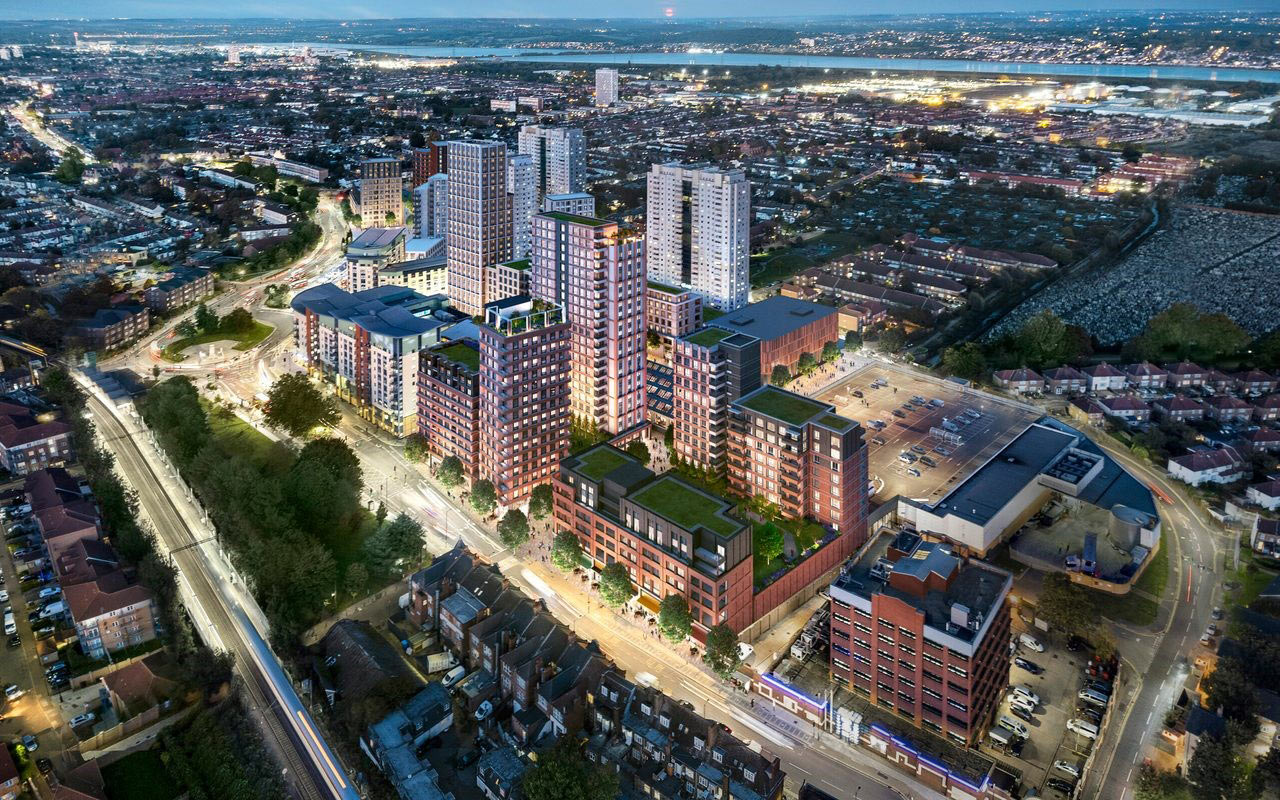 Go-ahead for 1,500 homes on shopping centre site in north London
Crosstree Real Estate has secured approval for its masterplan of the Edmonton Green mixed-use residential scheme on the 26 acre former 1970s shopping centre in Enfield, north London.
The hybrid consent for the masterplan outlines around 2.7m sq ft in total for the entire development with 1.6m sq ft of the plot allocated for the residential areas.
This includes detailed approval for an initial 350 build-to-rent (BTR) units in the first phase, and outline consent for the subsequent spaces which will be more flexible. Around 35% of the homes in each phase will be made affordable, while all the houses will be designed to achieve 75% reduction in carbon emissions. The early stages of the first phase will focus on breaking ground on a surface-level car park beginning late 2022.
React News revealed last January Crosstree's intention to rebuild the former retail space, which is located in Edmonton's town centre and sits next to Edmonton Green train station. The developer acquired Edmonton Green from St Modwen in 2018 for £72m and has since increased its net operating income by 35%.
Crosstree has had the open-air centre upgraded and introduced over a dozen new occupiers to the scheme despite the pandemic. The new plans will introduce 172,000 sq ft of open spaces, a library and community centre, plus dining and leisure amenities. The shopping centre's 110 shops will all remain operational throughout the masterplan.
Matt Mason, partner and head of development at Crosstree, commented: "We have a huge opportunity at Edmonton Green to invest in its future as a local town centre and are delighted with Enfield Council's resolution to grant planning permission for our ambitious vision.
"We have worked closely with the local community and established a masterplan that delivers a re-thought town centre. The significant local support we have received throughout demonstrates the community's shared ambition for the scheme and we look forward to continuing that relationship and establishing Edmonton Green as a vibrant place to live, shop, work, and play."
The Edmonton Green development's team includes architect Liftschutz Davidson Sandilands (LDS), Savills as planning adviser, Montagu Evans as heritage, townscape and visual impact assessment advisers, Concilio and LCA as consultation advisers, Waterman Group as environmental impact assessment consultant, landscape architect BHSLA, and Steer as transport adviser.
16 December 2021 | May Agaran | React News