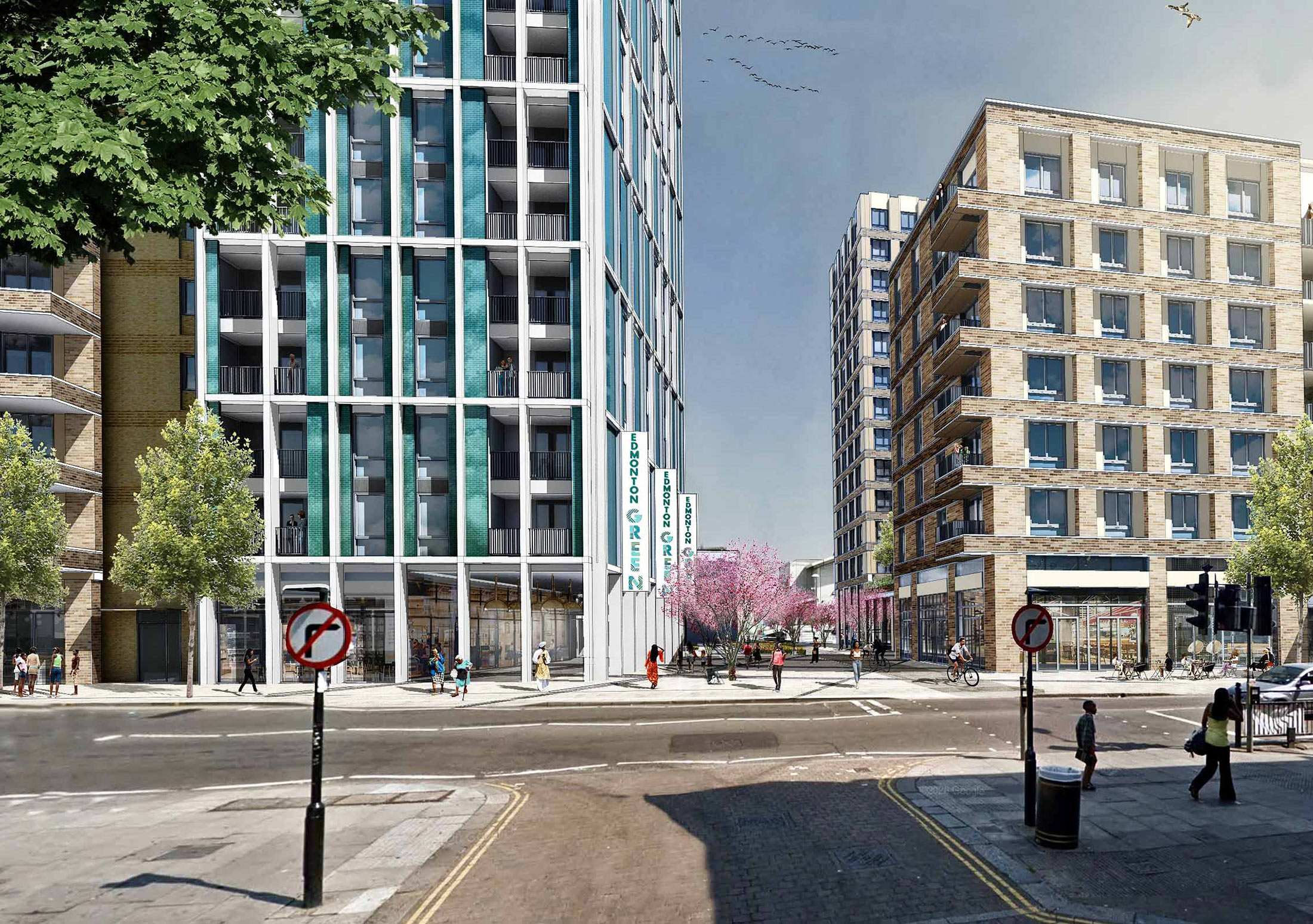 Plans in to transform London shopping centre into 1,500 homes
Crosstree Real Estate Partners has created a masterplan for the residential rebuild of Edmonton Green shopping centre in Enfield, and has submitted plans for a 1,500-home scheme, React News can reveal.
The 26-acre site makes up much of Edmonton Green town centre, and sits next to the train station with a mix of uses including an aging shopping centre and offices.
An early outline put to Enfield Council last October revealed Crosstree was considering the potential for up to 1,800 homes in towers of up to 35 storeys on the site.
Crosstree has now submitted a planning application for 1,500 units, with a detailed application for 353 build-to-rent flats in the first phase.
Crosstree bought the Edmonton Green from St Modwen in 2018 for £72m, and has since increased income by 20%. The development site encompasses 100 shops in a 440,000 sq ft shopping centre, a daily market, 50,000 sq ft of offices, a leisure centre, library and other community uses, and 1,000 parking spaces.
The redevelopment would be delivered in phases, with the early stages of the project focused on building on the surface level car parks.
The total masterplan outlines a scheme of 2.7m sq ft including 1.6m sq ft of residential. While phase one will be build-to-rent, Crosstree is keeping flexibility around residential tenure for the later phases.
The project was masterplanned by Lifschutz Davidson Sandilands with planning advice from Savills.
Long term, the site is still set to retain an existing leisure centre, an Asda superstore, three residential towers containing 754 homes, a bus depot and a Travelodge hotel.
Matt Mason, partner and head of development at Crosstree, commented: "Following extensive consultation with Enfield Council, our existing tenants and the wider Edmonton community, we are excited to submit this application as the first step towards realising a new vision for Edmonton Green.
"Our plans aim to enhance what is currently a vibrant local town centre and market, add much needed housing, create a sustainable night time economy and play our part in helping to build a long term prosperous future for Edmonton Green and its residents."
19 January 2021 | Jessica Middleton-Pugh | React News